OA Plumbing & Bathrooms
Your Plumbing Experts
At OA Plumbing we have been providing quality, plumbing services to the Redlands, Brisbane South, Brisbane West and Brisbane Northern areas for over 20 years.
OA Plumbing provide preventative plumbing & maintenance services to commercial and industrial clients. We also perform plumbing maintenance services such as water filter replacement and hot water system inspections in the home. Regular assessment and maintenance is important to identify potential risks before they happen reducing the impact and cost of down-time.
Benefits of scheduled industrial plumbing and commercial plumbing maintenance include:
Reduce the chance of breakdowns and interruptions by assessing potential risks and weak points, minimizing disruption to the normal running of the site
Repairing leaks, keep drains clear, protect pipes from failing and keep sewer lines running
Identifying and rectifying leaking taps/toilet cisterns reducing water consumption
Increased familiarity of the site and location of services
Develop relationship with our team
OA Plumbing are a full service plumbing company. Our plumbing services include:
Water Saving Devices
Pre-purchase Property Inspections
Installation of New Fittings and Appliances
Leaking Pipes, Cisterns, Taps and Toilets
Rainwater Tanks
Septic Systems
Water Filters
Hot Water Repairs and Installation
OA Plumbing are your hot water service specialists. We service, install and repair gas, solar and electric hot water systems.
Installation and Repair
Do you want to upgrade or is your hot water system leaking/not heating properly? Our expert tradesmen consult with you to repair, maintain and design your hot water system.
Our hot water plumbers service, supply and install a wide range of hot water systems.
No matter how minimal, wastes water and money as well as possibly causing damage to your home. A leaking water tap is usually caused by a washer, O-ring or jumper valve. Replacing these parts generally involves tap disassembly, and although it is tempting to try leaking water tap repairs yourself, you can damage the tap or fixtures if the job is not done correctly. To be sure of a quality professional job, call us at OA Plumbing your friendly water leak plumber to attend to all your leaking tap repairs promptly and efficiently.
OA Plumbing is your local full service plumbing professional. If you have dripping taps, a hot water tap leak, a shower leak, a kitchen leak, a bathroom leak or a toilet leak, our team at O A Plumbing offer complete plumbing maintenance services, and plumbing repairs for all your household and commercial plumbing needs
Do you have leaking taps or dripping taps or a leaking toilet or shower? Do you have a water leak from burst pipes or blocked drains
OA Plumbing offer complete drain plumbing services including:
Drainage solutions
Pipe inspections
Unblocking drains
Stormwater drains
Drain repairs
Your experience with OA Plumbing will mean you can always rely on us with confidence to complete any industrial and commercial maintenance and repair job, big or small. From staff amenity upgrades, to commercial and industrial plumbing alterations in commercial buildings. We have been providing commercial and industrial plumbing maintenance solutions to Queensland businesses and commercial property managers for over 20 years. You can rely on us to stand behind our work.
As a testament to our service, we get a lot of repeat business, because our clients want us back for all their commercial plumbing maintenance and repairs as they know they can rely on us to meet their needs. Our commitment is to complete every commercial plumbing renovation project on schedule, to the highest quality standards and at a competitive price. We love a challenge and have been involved in providing plumbing alteration solutions to many commercial plumbing projects from small commercial warehouse plumbing systems, right through to plumbing system upgrades and amenity renovations for multi complex buildings.
At OA Plumbing we have been providing quality, plumbing services to the Redlands, Brisbane South, Brisbane West and Brisbane Northern areas for over 20 years. With extensive experience in both Residential and Commercial projects, OA Plumbing offer a genuine one-stop-shop for all your plumbing needs.
We have access to leading brands and suppliers. Services from OA Plumbing are competitively priced and we pride ourselves on always leaving the worksite just as we found it.
Contact Our Leading Plumbing team on: 0421 011 214 – Cory & 0412 742 242 – Ondre or one of our friendly staff on 07 3910 0235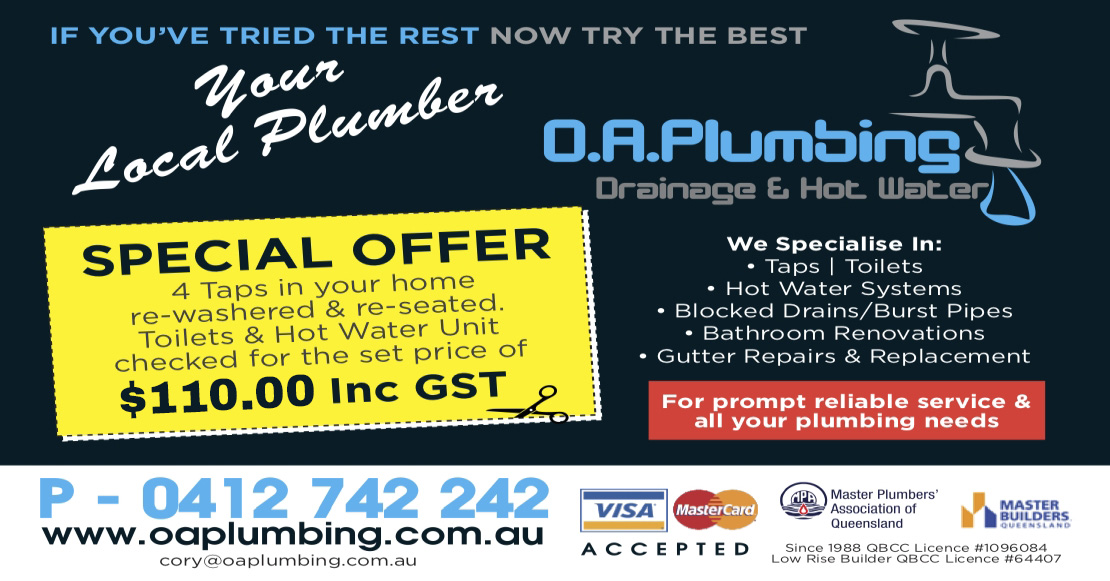 My hot water system blew, and these folks were super fast to respond and inspected and replaced on the day. Really easy to deal with including great admin staff making invoicing and payment a breeze. Totally recommend!
OA Plumbing will always get my vote for efficiency, courtesy and quality of workmanship. Tom and Henry were faced with a problem regarding the plumbing in of our new refrigerator as a result of cupboard and oven placement. In no time, a solution was found and work progressed smoothly. These two guys were well spoken and extremely courteous and respectful to a couple of aged pensioners. Well done.As far as I'm concerned, they will be called upon for any plumbing requirements we may have in the future. Well done OA Plumbing.